Marie Presley Twins Born: Lisa Marie Presley Gives Birth to Twin Girls on October 10 in California!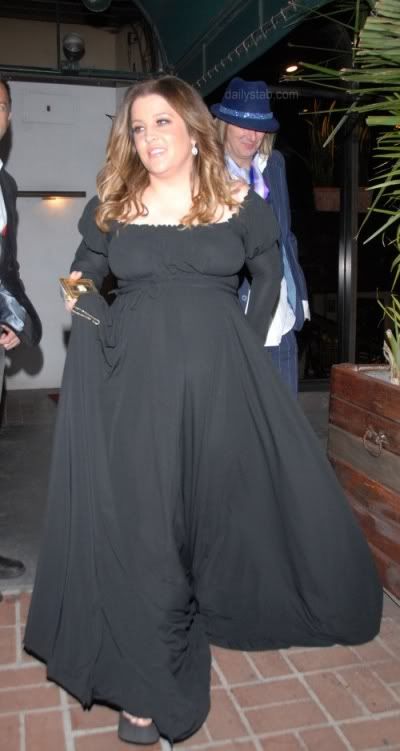 A heavy pregnant Lisa Marie Presley (photo embedded from photobucket.com)
Lisa Marie Presley, daughter of late Elvis Presley, and husband Michael Lockwood, welcomed the two infants to the world at Los Robles Hospital and Medical Center in Thousand Oaks, California, reported Star magazine.

Lisa Marie Presley and husband Michael Lockwood (photo embedded from Photobucket.com)
These two tots are the first children for Lockwood, while the third and fourth for Presley who has two kids with former husband Danny Keough, daughter Danielle Riley, 21, and and son Benjamin Storm, 17.
An insider told the mag:
Lisa Marie is mom to four now! She's feeling good, a little tired too," a family friend reveals. "She is so happy and Michael is ecstatic. He's wanted to be a dad for so long. This is his dream come true…. The babies are healthy and beautiful. Ben was seen pushing them down the hall in their cart and cooing to them."
Other than the sex of Marie Presley baby twins were confirmed as two daughters, no other detailed info (names, size, weight etc.) is available on the time of publish this post.

Lisa Marie Presley and former husband Michael Jackson
Lisa Marie Presley, 40, and Michael Lockwood, 47, were married in January, 2006. Presley announced that she was pregnant this March after she was accused of her "fatty" size. She was rumored to have conceived twins not long after her pregnancy announced, but only until August, Lisa Marie, who previously also married to Michael Jackson, confirmed to on a TV show that she was indeed expecting twins.
Update 1: Marie Presley Presley twins were named, they were called Harper Lockwood and Finley Lockwood, respectively.
First Photos of Twins Harper and Finley Lockwood

Update 2: Lisa Marie Presley
debuted
twins Harper Lockwood and Finley Lockwood on
People
magazine.
Welcome to
http://fisherewy.blogspot.com
, you can
Subscribe to RC's Full Feed RSS
to have entries directly sent to your favorite news reader like Google Reader, or you can also
Subcribe RC on your mobile device
to read its headlines only on mobile devices like iPhone, PDA, or Smart Phone. Newspapers / magazines / websites' editors, if you notice your (or your employer's) non-licensed copyrighted picture(s) appearing on this site but don't want them to stay here any longer, kindly please drop a comment below the corresponding post, and we will be more than happier to delete them without hesitation upon receiving your request. Many Thanks!